State Standards
Click here for the History and Social Science Curriculum Framework for 2008, currently in place. These SOL include an economic strand. VCEE's Centers for Economic Education have identified lessons for relevant elementary school SOL as provided below. The SOL were revised in March 2015 and a new curriculum framework will be adopted in Fall 2015 for implementation in the 2016-17 school year.
Grades K-2
Grade 3
Virginia Studies
national standards:
K-12 National Standards for Financial Literacy
K-12 Voluntary National Content Standards in Economics
Resources
Written by VC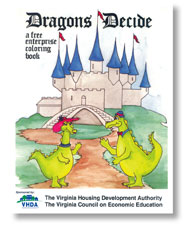 EE to accompany Dragons Decide: A Free Enterprise Coloring Book, K-3 teachers this Teacher's Guide (5 lesson plans) covers most of the economics related concepts in Virginia's Social Science SOL for grades K-3.
Reconsidering Wants and Needs, by Suzanne Gallagher and Shannon Hodges. Article and activities
K-3 Literature/Economics/Math Connections – A list of 30 children's books (K-3) that reinforce Virginia's K-3 Mathematics SOL and economics concepts in Social Science SOL. Compiled by GMU and JMU Centers for Economic Education.
Online Economics Lessons for Elementary Grades – Identified by JMU Center for Economic Education
VCEE Economic Educator Award Winners – with lesson plans

EconEdLink.org – online lessons, videos, interactives and current event connections

FederalReserveEducation.org – online lessons, videos and interactives developed by the Federal Reserve System for teachers
EconEd Reviews – search for lessons by economic concept, subject, grade level, standard, quality and/or sponsoring organization
Professional Development for Teachers: Workshops, Professional Development & Certification
Curriculum Resources: Color the Concepts, Reading Makes Cent$, State Standards & Resources
Programs for Students and Teachers: Mini-Economy, Stock Market GameTM, Economic Educator Awards