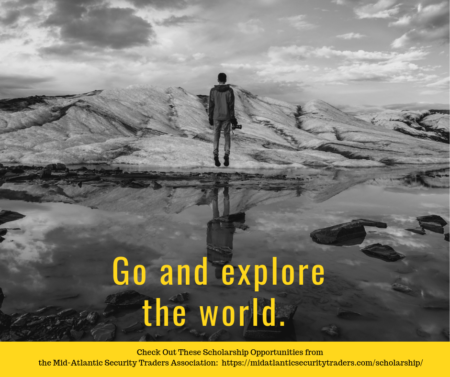 News from Our Virginia Council on Economic Education Partners: 
Total of $14,000 in College Scholarships for Virginia, Maryland and Washington, DC Students
Two $2,000 College Scholarships for High School Students Who Have Participated in the Stock Market Game™
Colleges and universities are the foundation of a strong and healthy economy.  The Mid-Atlantic Security Traders Association Foundation is dedicated to the needs of students of business, finance, and economics and is proud to offer our Annual Scholarship Awards.
This year the Foundation intends to award two $2,000 scholarships for high school seniors who have participated in Stock Market Game (one from Maryland and one from Virginia) for their first year of college, and two $5,000 scholarships to candidates selected from our member jurisdiction of Maryland, Virginia, and Washington, D.C.
The scholarship winners will be announced in August, 2019 with monies forwarded to the respective schools on behalf of the recipients prior to the Fall 2019 semester.  Deadline for applications is June 15, 2019.
Read more and apply here: https://midatlanticsecuritytraders.com/scholarship/