Invest in Virginia's future generations
Your Support of economic education teaches real world skills to K-12 students, and provides professional development and up-to-date resources to teachers.
DONATE NOW by check or through a secure online payment system.
Mail your check to:
Virginia Council on Economic Education
301 West Main Street, Box 844000
Richmond, VA 23284-4000
Credit Card or transfer from checking account. Click Here
S. Buford Scott Endowment  Honoring one of VCEE's founding B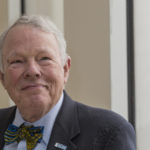 oard members and a driving force for economic education in Virginia, the endowment is administered by The Community Foundation Serving Richmond and Central Virginia. Watch a VIDEO tribute to Buford Scott and  Click here to donate to the Scott Endowment.
CVC Campaign  As a State employee, give through the Commonwealth of Virginia Campaign (CVC) and use payroll deduction.  The CVC campaign occurs annually in the fall and also accepts cash, check, stock or credit card.
Matching Gifts  Many companies match charitable gifts made by employees and retirees.  Contact your Personnel, Human Resources or Community Relations department to obtain a matching gift form.
In-Kind Donations  In-kind support often makes our programs possible.  All in-kind donations are tax-deductible to the full extent allowed by law.
Securities and Planned Gifts  Appreciated securities make excellent charitable gifts and may offer tax benefits. Explore the benefits of a planned gift by seeking the advice of your tax advisor, attorney and/or financial planner.
Privacy Policy  VCEE does not share personal information with any individual, organization or third party. VCEE is a 501(c)(3) nonprofit entity.
Questions? Contact Dan Mortensen, VCEE Executive Director, 804.828.6055 or drmortensen@vcu.edu.