The Virginia Council on Economic Education is a 501(c)(3) nonprofit organization. Our tax ID is 23-7087052. Please contact Jennie Romero, director of development, at (804) 828-6054 or jrromero@vcu.edu to learn more about the possibilities you can make real in the Commonwealth.
donate
WAYS TO GIVE:
Online
At vcee.org/DonateNow
Visa, MasterCard, and Discover accepted.
By Check
Virginia Council on Economic Education
301 West Main Street, Box 844000
Richmond, VA 23284-4000
Endowing Your Investment
Gifts to the S. Buford Scott Endowment for Economic Education in Virginia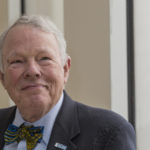 honor one of VCEE's founding board members and a driving force for economic education in the Commonwealth. The endowment is administered by the Community Foundation for a greater Richmond. Watch a video tribute to Buford.
By Transfer 
Of stock, please contact Mary Hagan, BB&T Scott & Stringfellow, at (804) 782-8823 to initiate.
Account # 8581-4263
Account Name Virginia Council on Economic Education
DTC # 0702
Making a Planned Gift 
Explore the benefits of a planned gift by seeking the advice of your tax advisor, attorney and/or financial planner.
Workplace Campaigns 
The annual Commonwealth of Virginia Campaign is available to state employees. Designate your gift to VCEE using code #003940.
TYPES OF GIFTS:
Cash – Usually in the form of check or credit card
Pledges
Appreciated Securities (Stock)
Planned Giving
Does your company match gifts? You can double or triple the impact of your donation when you use a company-sponsored matching gift program. Inquire with your human resources office to determine if your company matches your gift.
Volunteer
Email us to learn about volunteer opportunities for you to put your time, professional expertise, and services to work for economic education and financial literacy.
visit
We would love for you to see our teacher workshops and student competitions in action. Please contact us to learn about upcoming events and programs that are open to visitors.
Current partners & supporters
These corporations, private foundations, and generous supporters power economic education and financial literacy in Virginia, and we are truly grateful.
Financials
View our IRS Letter, Form 990, and Audited Financial Statements here.