Longtime VCEE Board member, former Chair — and true heart of the organization– S. Buford Scott, was honored November 16th at the Commonwealth Club in Richmond. The celebration marked Buford's 46 years of service to VCEE and his passion for economic education.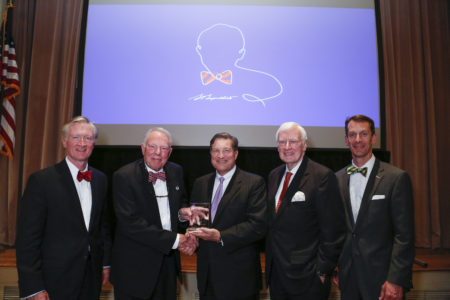 Host for the evening was the Honorable Gerald L. Baliles, former Governor of Virginia, with a keynote address delivered by Jeffrey M. Lacker, President and Chief Executive Officer of the Federal Reserve Bank of Richmond.
The S. Buford Scott Endowment for Economic Education in Virginia is being established to honor Buford's achievements and ensure that Virginia continues to lead the way in providing the best possible economic education to its students. By supporting this endowment, VCEE is able to expand its impact today, and enable Buford's vision of financial literacy-for-all to reach generations to come. Stewardship for the endowment will be provided by The Community Foundation Serving Richmond and Central Virginia. To donate, click here.